Hey ya'll!
What is up?! It's hump day! Happy Wednesday to you all and I do hope you are having a blast! We are only 2 days away from the weekend (Whoop Whoop). I don't know if you guys have had the chance to catch up with me on my previous post, but I am so serious about recreating my content for my brand for you all. We are going to have travel talk, foodie goodies, inspirational fashion and so much more!
So, today I am bringing you all Whatcha Cooking Wednesdays! It'll highlight cooks from small and large platforms to create awareness of his/her business(s) and so you can TASTE the goodness. I'm all about expanding your palate with exotic food and down right southern cooked food but also supporting one another.
Ya'll the experience is about to be FIREEEEEE!
Today's topic is all about pasta! Pasta is my absolute favorite thing to eat no matter how its made but I want to share with you 2 different pasta recipes for you and the family to enjoy. SEAFOOD STYLE, oh and a bonus feature too!
So, when I went to Carrabba's a while back, I was broken in my eating their Linguine Pescatore and OMG I fell in love. Now, being that I am a white sauce lover, I did have them sub out their red sauce for alfredo sauce.
Man, I am a true seafood fanatic and I danced like a kid in the candy store. Some may say "it's ok" but ya'll I was so in love with that dish, I don't usually get anything else. If my husband orders something completely different, then I'll munch on his.
Below is a recipe for linguine pescatore that I found on Italian Food Forever that you all can try out!
Ingredients:
4 Tablespoons Olive Oil
1/3 Cup Minced Onion
3 Garlic Cloves, Peeled & Minced
12 Cleaned Clams
1/2 Cup Dry White Wine
1 1/2 Cups Seafood Stock
3 Cups Pureed or Chopped Tomatoes
12 Sea Scallops
20 Cleaned Mussels
12 Large Shrimp, Cleaned
1/2 Pound Fresh Squid, Cleaned & Chopped
1/4 Cup Chopped Fresh Parsley
Salt & Pepper
Red Pepper Flakes
1 Pound Spaghetti Or Pasta Of Choice
Gremolata:
1/3 Cup Fresh Parsley
Zest of One Lemon
3 Cloves Garlic, Peeled
Directions:
In a large saucepan, heat the oil and then cook the onions until they are soft and translucent, about 4 minutes.
Add the garlic, and cook another couple of minutes.
Then, Add the wine and fish stock and bring to a boil, then add the clams and cook until they open.
Add the tomatoes, parsley, salt, pepper, and red pepper flakes and bring to a boil.
Reduce the heat and add the remaining seafood, and cook over low heat while the pasta cooks.
Cook the pasta in boiling salted water until it is "al dente".
Mince the gremolata ingredients together and set aside.
Drain the pasta, top with a scoop of the tomato sauce and toss well.
Serve in four individual bowls, topped with more sauce, and dividing the seafood up evenly between the four dishes.
Sprinkle some gremolata on each dish and serve immediately.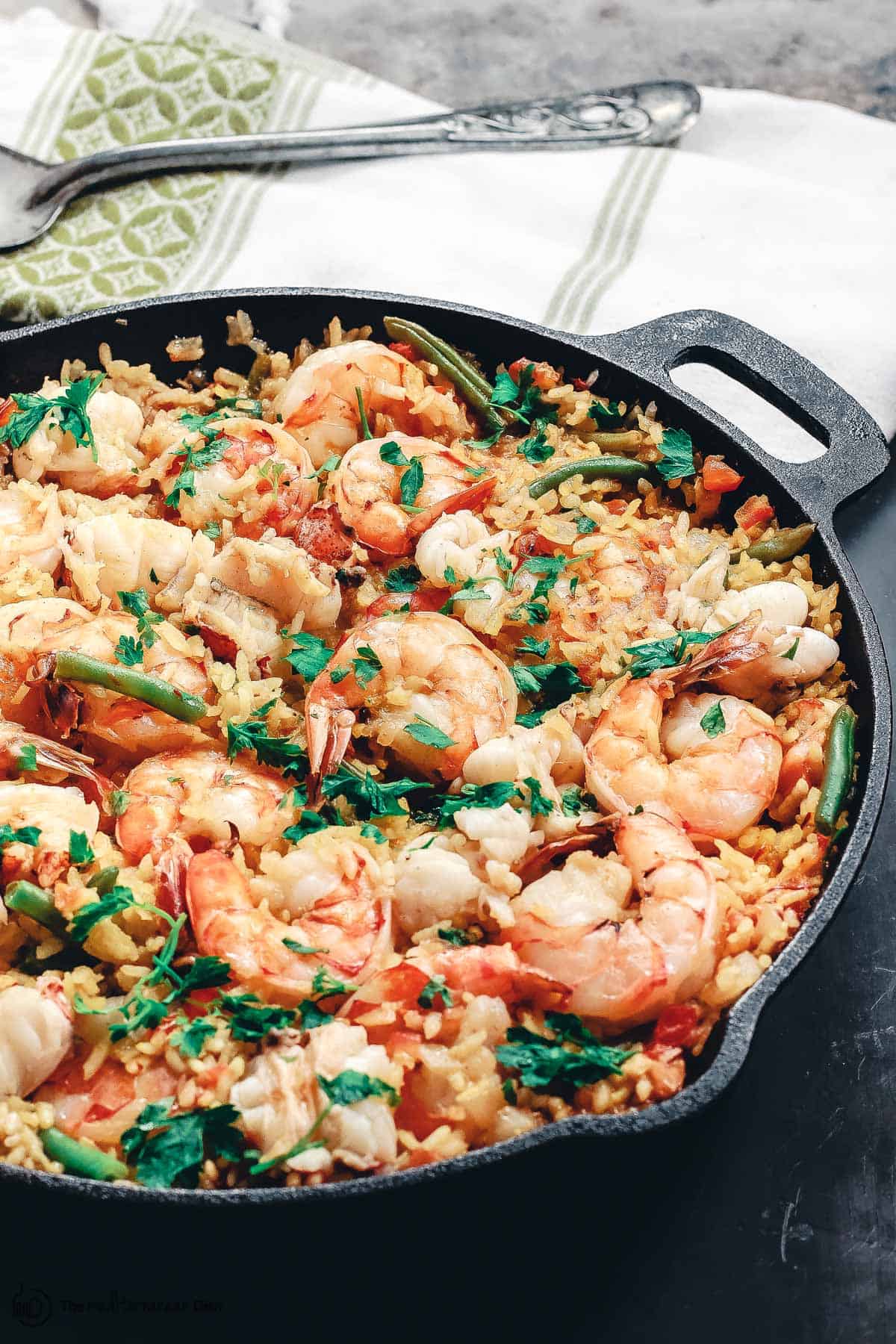 I have LONGED for paella since one of my Puerto Rican besties told me about it. Unfortunately, I have YET to try it out, but I will try it soon. Keep in mind, there are some slight differences I believe with each recipe for Paella, but as long as it satisfies your taste buds, have at it! Personally, I would like a true Paella Native create this dish for me so I can truly taste the authenticity. I found this super simple recipe from The Mediterranean Dish. Check it out below
Ingredients
4 small lobster tails (6-12 oz each)
Water
3 tbsp Private Reserve Extra Virgin Olive Oil
1 large yellow onion, chopped
2 cups Spanish rice or short grain rice, soaked in water for 15 minutes and then drained
4 garlic cloves, chopped
2 large pinches of Spanish saffron threads soaked in 1/2 cup water
1 tsp Sweet Spanish paprika
1 tsp cayenne pepper
1/2 tsp aloppo pepper flakes
Salt
2 large Roma tomatoes, finely chopped
6 oz French green beans
1 lb prawns or large shrimp or your choice, peeled and deveined
1/4 cup chopped fresh parsley
Photo: The Mediterranean Dish
Instructions
In a large pot, bring 3 cups of water to a rolling boil. Add the lobster tails and let boil very briefly (1-2 minutes) until pink. Turn the heat off. Remove the lobster tails with a pair of tongs. Do not discard the lobster cooking water. When the lobster is cool enough to handle, remove the shell and cut into large chunks.
In a large deep pan or skillet, heat 3 tbsp olive oil. Turn the heat to medium-high and add the chopped onions. Saute the onions for 2 minutes then add the rice, and cook for 3 more minutes, stirring regularly. Now add the chopped garlic and the lobster cooking water. Stir in the saffron and it's soaking liquid, paprika, cayenne pepper, aleppo pepper, and salt. Stir in the chopped tomatoes and green beans. Bring to a boil and let the liquid slightly reduce, then cover (with lid or tightly with foil) and cook on low heat for 20 minutes.
Uncover and spread the shrimp over the rice, pushing it into the rice slightly. Add a little water if needed. Cover and cook for another 10-15 minutes until the shrimp turns pink. Finally, add the cooked lobster chunks. When the lobster is warmed through, turn heat off. Garnish with parsley.
Serve the paella hot with your favorite white wine
Last, but not least, the BONUS FEATURE!
I had the pleasure of meeting Kimberlee Slaughter at Tinzley Bradford's Settle Free Mixer last year and I believe we hit it off from there.
Kimberlee is a self taught cook who is passionate about what she makes. Her food serves your taste buds with love and satisfaction. She has started her own business and YouTube channel too!
Business Name: Kim's A La Carte
YouTube: Kims A La Carte
Go like, share and subscribe!
Check out some of her dishes and definitely feel free to reach out to her to place your next catered order!
Contact Kimberlee here
I hope you guys have enjoyed a snippet of more to come!
Make sure you go out and support Kimberlee with her catering business. You can even purchase a personal plate too!
By the way, if you try one of the two recipes, drop your pic below so I can see all of the awesome cooks out there!
Come back next week for more goodies! Whatcha Cooking Wednesday!