Hello Hello Hello!
I am back but today, it is not about me. This post has everything to do with…
Who: Tinzley Bradford
What: Recognition at the 10th Annual Heroine and Hero Awards Luncheon by SOCAF (Saving Our Children and Families)
"The "Unsung Heroine Award" is designed to recognize women and men who make a difference in the lives of children, but has not been recognized for their contributions."
When: April 7, 2018
Where: Villa Christina
Why: Ms. Bradford is a well deserving honoree for all she does within the community and throughout her brand for others.
Creator/Host: DeQuanda Sanders
Let me introduce you to Tinzley Bradford:
After reading her biography, it should be evident as to her selection for being a recipient for this award. (Go Tinzley!)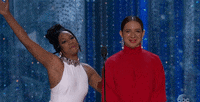 Now,
This event wasn't only about recognition. It also provided a gateway to release the struggles behind everything. The pain and agony people don't share, yet they still keep pushing to be great.
The point of it all is not ONLY about being recognized in front of a crowd of people.
It's about the work, dedication, and "ugliness" behind the masterpiece.
There were individuals who spoke on very challenging topics based on their testimony too. See, when you get recognized for anything you do, most people have no type of insight about your struggles. They only see the outer layer. They see that you've gotten to a certain level and the power you carry becomes greater the moment you SHARE YOUR TESTIMONY.
Far too many people keep a closed mouth when they should actually be speaking. Why? I don't know why honestly. Fear could be a reason, or stubbornness. But, SOMEONE needs to hear YOUR story in order to get through their own trial. You never know what is going on with a person. The moments and engagements leading up to this event took time, effort, and transparency.
Ms. Bradford oozes success, showers love, and never settles. She was that person that had the time, effort, and transparency to offer others to help them through. It's not easy but when it is all said and done, the blessings follow.
Thank you Tinz for bringing me alongside as your photographer and blogger for such an intimate moment with everyone. You are truly a remarkable lady with a thousand talents. I'm so proud of you!
Be sure to keep up with Tinzley on Facebook and Instagram at:
IG: Tinzley Bradford
Facebook: Author Tinzley Bradford
Check out some of the highlight pics from the event!
Jewelry Vendor: Jazz Bloom
Instagram: @JazzBloom